Wind Junkies in the Delta
by Spennie & Debi
July 2009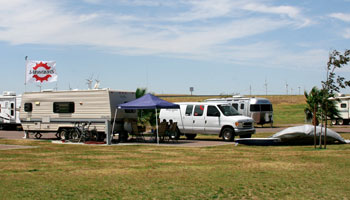 After the Gorge last year and Maui the year before, we decided that this year we were going to travel less and sail more, as well as save some money, so we went to Rio Viento Resort in the California Delta for a little over 2 weeks. We prepared carefully, to make sure we had everything we needed:
1. 24 foot travel trailer so we don't have to "camp"(ugh!)? Check.
2. Cogmobile chock-full of excellent sails & boards? Check.
3. Nice shady spot in the lee of the trailer for us (& our dog) to hang out in? Check.
4. Plenty of ice-cold drinks of all kinds if we get thirsty? Check.
5. 2 Exocet boards with 2 matching Huckers ready to go on the grass? Check.
6. Craploads of wind every day, and an excellent launch just 50 yards away? Check.
7. 2 killer mountain bikes in case the wind stops? Check.
8. Big F—ing Sailworks flag everyone can see for miles around? Check.
We arrived midday on July 2nd, and after setting up the trailer went out for a quick sesh. It was kinda lite that first day, so I rigged a 6.5 for me, and a 5.6 for Debi. The next day it was ripping in the morning, but we were burnt out and decided to wait for the PM session, which was another ripper–4.8 for me, 4.0 for Debi. If you don't know me, I'm 6'4″ tall and 205, so a 4.8 is pretty tiny, although the Sailworks Huckers generate a lot of power for their size. I later had to rig down to a 4.6 Revolution wave sail.
The next day it blew like crazy all day, with averages in the morning over 30, and gusts in the low 30's all day. It was about 60 degrees (brrrr!) and we were pacing ourselves, so we decided to sit this one out. It backed off after that, and for the next two weeks we sailed nearly every day. Sunday the 12th was memorable- I was on our 5.6 Hucker all day, and Debi was jammin' around on her new 4.8 Hucker for hours. The next day we were so burnt out we could hardly get out of bed, and took that day off as well.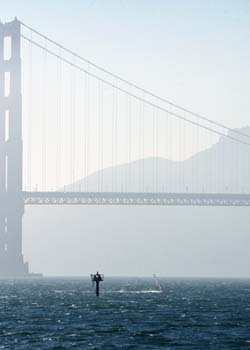 Tuesday the 14th we met our friend Emily Prescott in San Francisco, and I sailed at Crissy Field with her. Lemme tell you about Crissy: There's no wind by shore, so you have to guess at your sail size and schlog out to the wind line in order to find out that you can't even sheet in the 6.5 you rigged or the board will stand up on it's tail like a Marlin on a hook. Back to shore, re-rig down to 5.6, Emily wants to borrow the 84 liter Exocet so I take the 94, which only has an 11.5 inch fin, way too big. Schlog back out to the wind line only to be radically over-powered again, and sailing through a combination of 3-foot ocean chop and 4-foot ocean LINER chop, at 45-degree angles to each other. Cripes, I need the 4.8, but no way am I going back in to rig again, so I'll try to make it work. Hey, where is everybody? Find out later they all sailed out to the North Tower of the Golden Gate Bridge, because the wind is mellower and the water smoother. Only problem is it's something like a mile & a half out, and there's strong tidal currents all the time, and the wind is notorious for shutting off like a light switch, sending sailors out to sea to be picked up later by the Coast Guard. "No problem!" Emily says, "I carry a radio!" Oh, good. I won't be rushing back THERE to sail any time soon!
Debi threw her back out of whack on Thursday the 16th, but the wind was shutting down anyway, and we left on Saturday morning. Overall a great trip, we'd be tempted to do it again next year, but we're thinking of going back to the Gorge, since our last trip was much too short and we got semi-skunked. (see "Windjunkies in the Gorge")
–Spennie & Debi
Categorized in: Haulass Hotline, Sacramento River Delta