Texas Chillin' – Monday/Tuesday, February 7-8, 2011
by Manny
Get out your system sessions…
Monday 2/7
Well I had a couple of days off. A cold Front was headed down towards the coast calling for 15-20 winds for Monday morning. I haven't been windsurfing since last early December and I was itching to go out. It was a going to be a dawn patrol. So I set off leaving my house at 6:30 AM and got at Texas City by 7:15 AM. It was blowing like they predicted but the temp on my truck showed 42 degrees….brrrrrrrrrrr. I rigged up my 6.2 NX and the missile. When I was rigging, I was thinking to myself that I'm freaking nuts for doing this…..but the urge was bigger than my common sense. So I proceeded to change into my 3/2 short armed wetsuit without gloves/booties/hat (I only own a 3/2 wetsuit by the way). I make my way to the water and did a couple runs. It was Ok until I blew a jibe….holy crap it was VERY cold. I sailed a couple of more runs and my feet and fingers were totally numb within 10 minutes of the fall. Then the major sign of hypo came on. I had a massive painful headache. I decided to go in at that time, since I was the only dumbass out. The session was over and last only an hour……but it felt so good. It took me about 30 minutes to warm back up….
Tuesday 2/8
Well they were calling a high of 55-60/sunny for Tuesday and Southerly warm winds in 10-20…..Uhmmm I was thinking that might be tolerable, but I decided to go to the gun range in the morning. As the morning progressed, I realized when that when I was shooting the 300 yard range with my 22, that I was aiming/adjusting my scope for a 2′ offset. Holy crap the wind picked up a shitload. I checked my Blackberry and they just issued a wind advisory for Galveston Bay…WHooooooWhooooo. I packed up all my weapons immediately and headed home to pack up my windsurfing gear.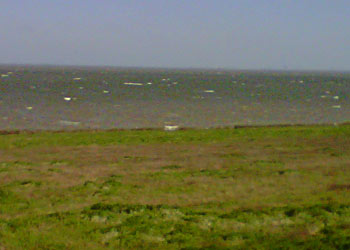 I headed out around lunch time to Texas City and arrived there around 1 PM. The temp on my truck showed a balmy 54 degrees. The water was white capping like crazy and was hovering consistently around 20, not gusty at all. A couple of kiters were out but no windsurfers. The temp was not great but a lot warmer than Monday. Again I rigged up my 6.2 NX, but this time I used my 20 pounds bic vivace 263. I wanted to bump and jump since the chop was majorly ramped up for such little wind. I went out and man I love the new antiskid that I applied on the bic (spray on antiskid that I bought for 6 bucks at AutoZone). It is just the perfect combination of nonskid for bare foot sailing. I also love that vivace 263. It is such a SWEET production board. I wish they would make it again with the new technology. It is so predictable, VERY fast in rough conditions, and VERY tough. They don't make them like they use too. I started to do small jumps a couple of times and landed them successfully without any wipe out. As I the time went by, a decided to go all out on a big jump. I decided to get some major speed by going off the wind and cutting really hard on a ramp. That's when the OH SHIT came…the board seriously spun out right before I hit the ramp…The board went up in the air sideways and I landed at full speed on my back and did not let go of the rig. Checked my gear for any broken parts (especially the sail, as I broken two battens previously somehow while letting my gear go wild after a bail out). That was cold one!!!! After that incident I decided to do a couple of cruising runs to warm up. This is now my favorite set up for the rough stuff the 6.2 NX and the good old Bic. I ended the session around 3:45 Pm and had a beer to finish off an awesome day. Can't wait for the weather to get warm……
PS: I just noticed that the sail colors match the board colors. That turns out that all of my favorite setups have matching colors between the rig and the boards….Is this a coincidence??
Another PS: I feel sorry for you all living up North…..NOT

Categorized in: Haulass Hotline, Texas