Quick swell hunt in Baja!
by Kevin MacGillivray
July 2009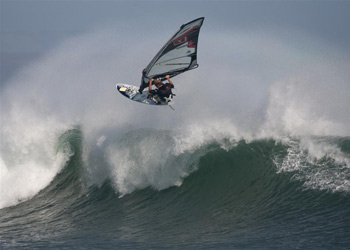 Day 1: Friday (July 24)
Bombed down the road early in the morning and got to Solosports at about 2:00pm. Met up with both new and familiar faces in the camp and on the bluff. Skies were pretty cloudy and didn't think it was going to blow. But there was a little wind picking up around 4:00 and the swell was firing. Gotta try! Jumped out on the water in the light wind, but enough to ride my new favorite board, Pocket Wave 80L and my 5.3 Manic (rode that combo the entire trip!)
San Carlos and Kevin MacGillivray going OFF!
Photo courtesy Clark Merritt
Graham Ezzy came out bobbing and ripping as well-that was pretty much the theme for the day for everyone. Everyone was catching some great rides and with the swell was hitting logo to mast high, there was plenty of carnage to go along with it! Sailed til about sunset and then it was time for the Solosports Cantina for a cocktail or two……or three….or….
Day 2: Saturday
Swell was still churning out mast highs and the wind started picking up as we hit lunchtime. Fueled up with some body gasoline and went out. Still light wind, but plenty on the wave. Sailed for about 6 hours straight. Finished with a nice offshore sesh watching the sunset. Limped back into camp for a cocktail or…….
Day 3: Sunday
Wind is up early and people were sailing by 10:45am. More body fuel in the morning and got in a sesh for a couple hours. Swell was fading quick, but there were occasional logo highs coming in. With a slightly different direction, the Point wasn't working as much and all the action was up at the Beachbreak. Back in for a lunch, then back on the water to catch the last of the swell….then…. well, you know…..
Day 4: Monday
Swell was still lingering and it was getting windy EARLY! Sailors on the water by 10:00am! Oh my…body can't take anymore! I've gotta get outta here!! Bombed back home to SB. Hope to see some of you down there October 10th – 17th!!
-Kev
Categorized in: Baja, Haulass Hotline