North Padre Bird Island, Corpus Christi, Texas October 2010
by Manny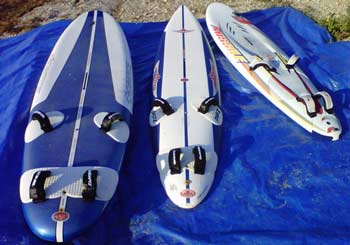 So I decided to take some time off and do a spontaneous trip down to North Padre in search of some flat water. The forecast looked grim (around 10 knots for the next 5 days). I left on Saturday morning and arrived down and secured my campsite right on the water. Wind started to pick up (went from glass to ripples), so I decided to rig up my new 9.9 NX. Took it out with my Robert GSL and bam – I was planning with a few pumps. I windsurfed all day.
On Sunday, I woke up to already 10 knots…I do a dawn patrol on my 9.9 NX and the Roberts. Around 9:30 AM, I am really getting overpowered on my 9.9, so I decided to check the wind. The local wind meter at the Worldwind shop showed 15 with gusts to 20. I also just realized that I hit a peak of 30.67 MPH with my 9.9 and the big Roberts. WHOOHOOO. So to save my arms, I rig up my 7.1 and go out on my medium Roberts. After a few hours, I decided to take a chance and got out on the MISSILE with a whopping 62 liters. Oh Boy. I forgot how much wind that board requires just to get going. I did a couple of runs on it and decided that it wasn't windy enough for it. That board is amazing how lively and the amount of acceleration it has. I decided to end the day.
During the night I hear a diesel vehicle pull up a couple of spots down. I take a look out of my truck and I see a couple of guys rigging up a sail. It's probably blowing 15. At that point I look at my watch and show 2:00 AM…..uhmmm that's when the bar closes down in Texas. Alcohol must have been involved in that act…. The guy goes out with a small flashlight on him. He was on a full plane; all you could see is a little light moving around on the water (no moon was out).
The following day, it started to blow 15 with gust of 20, again the forecast did not call for this much, but I'll take it. I go out again on the 7.1 – all day. Since this is my last day, I decided to go out and do a sunset sail with my 9.9. What a nice couple of relaxing days. I also learned that you should bring ALL your gear as the wind can do unexpected things.
See you all on the water
Manny
Categorized in: Haulass Hotline, Texas