Bonaire 2010
by Manny, May 2010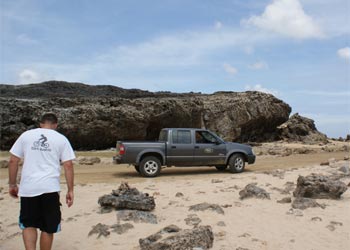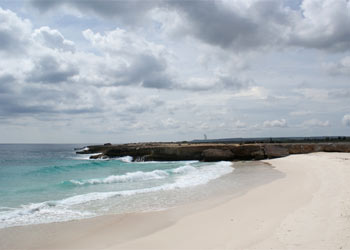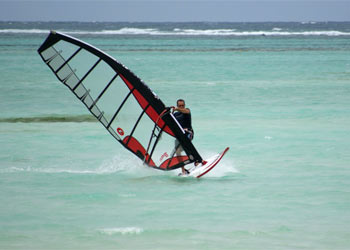 Well Kara and I decided to go back to Bonaire this year. There were some extremely good deals happening on hotels and airfare (half price). We arrived on Saturday morning at 4:45 AM. I noticed that the weather was different this year when we first got off the plane, but I didn't think twice about it. We got our mini truck from the rental place and went directly to the hotel and hung out on the beach. Kara was stoked because the hotel had wireless and her Ipod/touch do-hicky was working. We ate
breakfast and went to the market to get groceries and my favorite, Polar beer (two ½ cases). We snorkeled the rest of day.
On Saturday night, going to dinner, we stumbled upon some street racers doing some freestyle stunts on road bikes. The locals were surprised to see us on that road (we learned all of the backroads and shortcuts last year). From that incident, I declared that Bonaire to be named as a "freestyle capital" of the world.
On Sunday, we showed up to the windsurfing place to get our gear. The wind was light…..We decided to go out on the biggest gear they had. Kara went out on a 7.3 cam, while I went on an 8.8 no cam sail. I was marginally planing with more than a few hard pumps. Within 25 minutes Kara hijacked my 8.8 and was planing instantly with a big smile (this is where I wished I had my gear). I ended up taking pictures of her on the 8.8 doing Gybes, as I was taking a break from my pumping expedition. She didn't mind being on a 8.8 as the water was crystal clear and not murky like in Galveston Bay.
The next two days got gradually windier and I scaled down to 8.0 and 7.3. On the end of the third day around 2:30 PM, all of a sudden there was a swarm of 50 kid windsurfers on the water. I started to think it was their school sport rec time…..Uhmmm. They were doing some serious and wicked freestyle moves that I did not think it was frigging possible to do. HOLY CRAP, BATMAN! About twenty minutes later, a Cessna 182 was buzzing the water at 50' with a camera man hanging from the side of it. That was cool being buzzed by a plane. I stayed out hoping that they would get some video of me (I had an ugly avocado green RRD Fireball with a black 8.0 RAF sail). Anyway, when I came back to shore to end my session, Kara told me that they were filming for an upcoming documentary named "Children of the Wind" to be released next February. The last day we windsurfed it was blowing 16 to 20 knots and I ran my GPS with a 6.6 and a 71 RRD Fireball and Kara was on 6.0 RAF sail. We had sailed 4 days straight. We still had one more day left to go windsurfing. The next day there was NO wind. We decide to take a kayak and snorkel the reef. We saw the typical fishes, a turtle (just hanging out near us and a 12" Octopus.
The next two days, we went snorkeling around the Island and went offroading in the national park and found some very cool empty beaches. We also watched the locals using heavy pieces of machinery to harvest sea salt. That was pretty cool to watch.
Even thought the weather pattern is different this year, we still had a very good and relaxing time. The locals were telling us that last time they had a weather pattern like this, that the hurricane season was nasty…..OH BOY here we go again…
GPS results for the last day: http://www.sportstracklive.com/track/map#mannymach1/Windsurfing/bonaire/fun-sailing/22100/full
Children of the wind trailer: http://www.youtube.com/watch?v=-CDgYcd4bZ8
See you all on the water.
Kara and Manny
Categorized in: Haulass Hotline, Uncommon Destinations