2011 Enduro
by Spennie
Hey Wind Junkies!
Debi just finished posting the results and wrap-up of the 2011 Cabrillo Beach Enduro at: www.cabrillobeachenduro.com. There's a link to the photos on the left navigation there as well.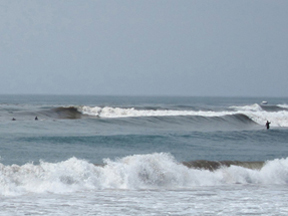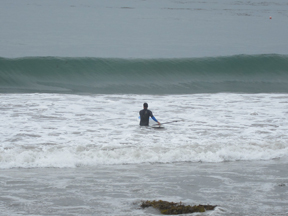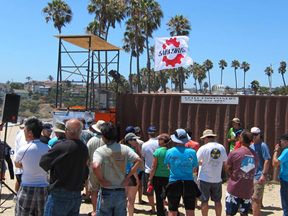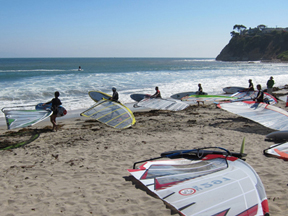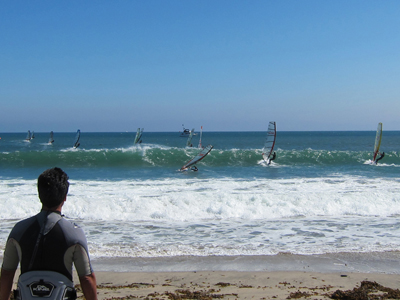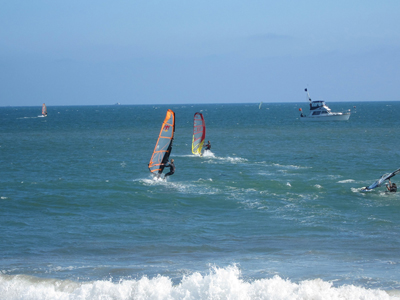 I was there but didn't race. Why, you may ask? Well, there was a pretty good swell running that morning…..so I was a little nervous about trying to drag an 8.2 out with no wind to power me, and having $3,000. worth of gear crushed in the shore pound.
While we were standing around, there was about a 7 or 8 – foot "rogue" set that came through, got me thinking about asking Joe & Kelly if they would cancel the race. But the waves backed down a bit, and we had the skipper's meeting.
After that, I went out to see how the buoys were set, and to tune my sail. It was pretty gnarly, and I had to back up a couple times to wait for the perfect moment of no waves and a good gust. I made it out, but only planed about 1/2 the time. Coming in, I was following a wave so I didn't get killed, and got becalmed RIGHT IN THE IMPACT ZONE! Shit! Luckily I caught a gust before I got creamed, but the crappy wind and nasty waves made me decide to rip the numbers off the 8.2, roll it up & put on dry clothes. Of course, that made the wind pick up a bit, and we managed to get some races started:
Made for some pretty interesting starts, though:
Shawn Freeman (red & yellow) got away clean in the start of her second heat, and went on to take the Women's Open class with two firsts!
This dorky dude was emcee for the awards dinner, which went well despite him. Notice 2 sails, a board, and tons of smaller prizes in the background, stuff you might have won if you were there.
All in all I had a great time, despite not racing, and am looking forward to next year!!!
–Spennie
Categorized in: Cabrillo, Events, Haulass Hotline