100+ Mile Windsurf Session
by Joe Blanchard
12/3/2011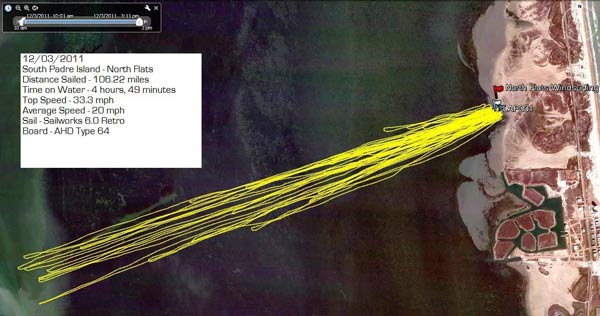 On 12/3/2011, just one day after my 52nd birthday, I got the rare opportunity to sail over 100 miles in one session.
In the morning, I checked the wind forecast for South Padre Island, TX and was pleased to find that starting at 9:00am it was going to be blowing over 20 mph, and forecasted to drop off sometime after 5:00pm. With air temperatures in the mid-70's and the water temp hovering around 70 degrees, this was going to be "the day" to go for 100 miles.
I had achieved this milestone twice before, once in 2009 and again back in 2007.
I arrived at the North Flats of South Padre Island around 9:15 am, checked the wind with my wind-meter, getting a steady 20 mph with gusts around 24 mph and decided to rig my 6.0 meter Sailworks Retro on my AHD Type 64 slalom board. Since the forecast was for increasing winds throughout the day, I decided on a smaller (27cm) GSport Weed-Wave fin, to ensure that I wouldn't have to re-rig down to a smaller sail…consuming precious time.
On the water just after 10:00am, and immediately I knew "this could be the day", and a smile spread across my face as I felt that familiar "pull" on the harness, planing immediately. I promised myself that I would not stop for lunch until I reached over 50 miles. On hitting 52 miles, at 12:35pm, I decided to take a break and refuel. Checking my Garmin 305 GPS, I became aware that my average speed of just over 20 mph was pretty good, considering that I was throwing in some tacks as well as jibes. 20 minutes later, I was back out on the water and knew in about another 2 hours I would have my goal…as long as the wind held.
Quicker than expected, the miles added up and when I hit 75 miles, I knew I had a real shot… "seeing light at the end of the tunnel". The wind picked up on "the outside" (some of my reaches are over 3.25 miles in length), and I decided to shorten my reaches, for safety and sanity reasons. It also helped me stay limber, as I was starting to stiffen up on my longer reaches.
At mile 93, and about 4 hours into my session, my Garmin informs me of a "low battery" warning, and out loud I exclaimed, "come on…don't you dare die on me now". I pushed "enter to confirm" and it kept on recording. Even though I knew I'd be out-of-my-mind overpowered on the outside, I decided to head out knowing that an "out-and-back" would give me necessary mileage in a most efficient way. Checking my GPS about every minute on the way out and hoping it would keep recording, I jibed on the outside and confirmed that I needed only a little over 3 miles to reach 100 and headed back in, all the time, praying that the battery would hold.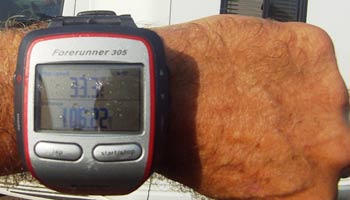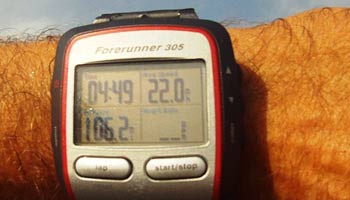 When I finally jibed on the inside, I was relieved to see that I had reached my goal and hollered a big "YES!!!" and dropped into the water to relax a minute and celebrate. With my GPS still recording, I decided to do a couple of short runs, just goofing off and throwing a couple celebratory jumps here and there, I realized how tired and sore I was; I decided to call it a day, and with a huge smile on my face, coupled with high-fives from a few of my fellow windsurfers, de-rigged my equipment.
Session Stats:
• Distance Sailed – 106.22 miles
• Time on Water – 4 hours,
49 minutes
• Average Speed – 22 mph
• Top Speed – 33.3 mph
Returning home to my wife, Angela (also a windsurfer), who was ready with a wonderful dinner and dessert, followed by a hot shower afterwards, made this day truly one to remember! Two Advil was the prescription for a restful sleep.
If you enjoy sailing flat and shallow water (waist to chest deep for over 3 miles), come to South Padre Island, Texas…you'll love it!
"6.0" Joe Blanchard


Editor's Note:
Be sure to check out some of the great windsurfing videos on Joe's YouTube page!
http://www.youtube.com/kayj03
Categorized in: Haulass Hotline, Texas